9 Budget-Friendly Jewellery Gift Ideas Your Sister Will Love
Endless arguments, mindless talks and lots of fun – all these things roughly define the brother-sister bond. No matter how many times you fight or how many times you complain about each other, they only help strengthen your bond with your sister. No one can understand you better than her and she's the only one you think of when you're in huge trouble. She acts as an annoying friend, sometimes a motherly figure and a kid at times but remains your best friend forever.
So why not celebrate this beautiful relationship and capture the lovely and precious moments with a charming gift? And especially if it is a special occasion like rakhi, surprising her with a gift is most certainly a great idea.
 Here, we are listing out 9 awesome yet budget-friendly rakhi gifts for sister under 500 INR. I'm sure that your sister would definitely love these jewellery gift ideas. What's more? These are perfect to not just cheer her up but will also last really long – especially as compared to chocolates, flowers, etc.
1. Bracelet
Perhaps the most elegant piece of jewellery is a bracelet. Bracelets are perfect to be handed out as Rakhi gifts to sisters. Here's why – firstly they are versatile in nature and can be worn either as a band or as a bracelet. Secondly, these can be worn on special occasions and even to the office! There is no circumstance where a bracelet wouldn't fit.
2. Choker Necklace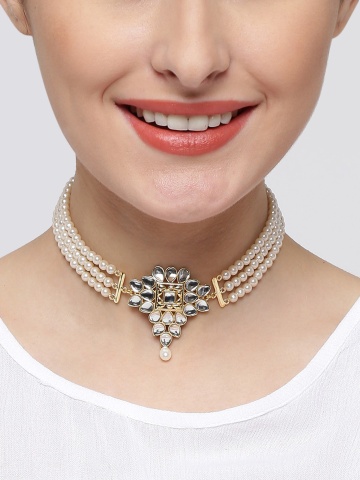 Nothing screams chic-style as much as a choker necklace. A decent yet bold choker necklace can instantly perk up the outfit and is suitable for a wide range of occasions such as parties, weddings, festive seasons, etc. Also, a choker necklace can be worn with most kinds of outfits. You can easily get a reasonably priced choker neckpiece at any Rakhi jewellery sale these days.
3. Studs
Want to bring a difference in your sister's jewellery box? Gift a pair of studs – that appear to be floating on the ears! Yes, any girl would love to own lots of studs due to the sheer beauty it emanates. Studs come in a variety of shapes and materials, but studs with stones and pearls are your best bet. Studs are in vogue nowadays and are becoming trendier by the day. So, don't think twice and get your sister a pair of studs from any rakhi jewellery sale.
4. Chandelier Earrings
These statement earrings are a perfect fit for any type of occasion and go perfectly well with traditional apparels and even western ones. Chandelier earrings have been in the limelight since forever and their time on the jewellery blockbuster chart isn't going to end anytime soon. Plus, a girl can never have enough chandelier earrings. They're a statement piece of jewellery and are a must-have. And they're really well-priced – you can get them from any sale that says rakhi gifts for sister under 500 INR. That's how inexpensive they are!
5. Locket
A tiny locket is an ideal choice for most people to give out as Rakhi gifts to sister. It can be worn anywhere, from home, office, and shopping malls to parties, and weddings, a locket pretty much suits all occasions and even no-occasions! The best part is that it would stay close to your sister's heart at all times. What better way to show your sister that you love her the most?
6. Infinity Rings
An infinity ring is all things decent, delicate and classy. It literally screams calm and chaos at once. Infinity rings come in various forms but the best one is made mostly of a single metal/material and is simplistic enough to wear daily. Gifting your sister an infinity ring is the best way to tell her that you would take care of her till infinity.
7. Anklet
A fastidious chain and a few beautiful shapes in the form of stars, sun, moon, geometric shapes, etc. come to mind when anyone says anklet. Meant to be worn on only one foot, an anklet is the western version of the more traditional payal, which is worn on both the feet. What sets the anklet apart from all the other jewellery pieces is that it enhances the beauty of the wearer's feet be a hundred times at least! With ankle-length skirts, jeans, leggings and lowers in trend, the popularity of the anklets have grown exponentially as they are an excellent piece of jewellery to pair with all these outfits.
8.
Statement Neckpiece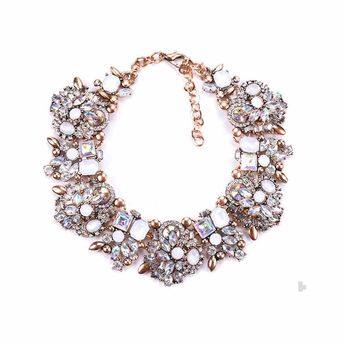 This is an absolute favourite of almost all girls. Even if your sister doesn't own a statement neckpiece then you should gift it to her so that even she can explore the beauty that lies in her. A statement neckpiece is best paired with studs, small earrings or can even be worn as a single piece of jewellery. Statement necklaces can be made of stones, beads, pearls, tassels, oxidised silver, and even cloths. They go with almost all outfits and are bound to turn heads. A statement neckpiece can perk up even the simplest of apparels!
9. Set of Rings
The more rings your sister owns, the better! Statement rings, twin rings, tone rings, metal rings, oxidized silver rings are all fine. But what's in vogue these days in the world of rings? A set of rings! Yes, you heard that right. A set of rings is a collection of finger rings that are made out of the same material and are meant to be bought and worn together.
 The set of rings contain as many as 10-12 rings and as less as 3-4 rings. Most importantly, each ring is different from the other and yet seems similar due to the material it's made of. Most girls are swooning over the trendy set of rings but if just in case, your sister doesn't like to wear it, she can have several rings to wear separately!
On An Ending Note…
All the above-mentioned jewellery is budget-friendly, versatile, trendy and chic. And your sister is bound to love it. So why wait? Just go grab them all!