Best Live Video Streaming Solutions – YouTube Live, Facebook Live and Dreamcast
If we look at the statistics for the past few years. A large percentage of the audience has inclined towards digital devices for watching videos. With the increase in incline towards digital devices, live streaming came into play in 2014. Periscope is the first app that introduced live streaming that helped many brands and businesses to leverage. With advancements in technology, an increase in live video streaming platform has been recorded. A battle has been on between various social media live video streaming platforms to offer the best live webcasting solutions. Live streaming via Facebook helps in reaching a large audience base globally without any geographical restrictions. Facebook has millions of active users around the globe which make it easy for your brand to reach larger masses. Not only facebook, various other social media platforms like Instagram, Youtube, etc. are not left behind in the digital race.
Best Live Streaming Solutions
The live streaming industry has been booming ever since its existence and has become a top priority for digital marketers. It is counted as one of the most powerful tools for marketing a brand promotion. Whether you want to launch a new product or brand in a strategic marketing dynamics or change the positioning of the existing brand or want to increase the sales lead, live video streaming solutions serve all. In this article, we share a brief overview of various live video streaming platform and will compare the best live video streaming solutions. The top live video streaming platforms deliver excellent webcasting services but still hold significant differences. The target customers, audience base, integrated features, usability, price and customer support all vary when we compare the best live video streaming platforms. 
Each live video streaming platform distributes your live video content to a large number of audiences globally within a single point of time. The number of clicks and views make it easy for you to evaluate the metrics that are responsible for calculating the success of the video content. 
You can even consider the CDN (Content Delivery Network) used by your online live video platform. It should have enough capacity and the geographic layout that is capable of delivering video whenever it's required. The best advantage of online live video streaming platform is they help you to monetize your live stream as per your requirement. It makes it easy for brands to generate revenue from live streams. A secure live video streaming platform that takes care of security and reaches a large number of audiences globally while maintaining the security of your video content. You can opt to keep your live stream private for security purposes while allowing only authorized people to access your video content.
Let's have a look at some of the best live video streaming solutions
1. Youtube Live
As live streaming has captured the whole internet industry, Youtube has worked on its algorithms. It started offering Youtube live streaming services to pace up with the digital race and stay ahead in the race of live video streaming platforms. Youtube live stream events reach a wider audience base around the world as it is the known platform for a very long time to watch video content. Youtube live is majorly used by brands and businesses to do low stake Business to Consumer i.e. B2C live streaming as it has limited monetization options. To stream live on Youtube you need to have your channel with a minimum of 100 subscribers. Some brands already have their existence on youtube with many subscribers which make it easy for brands to opt for youtube live streaming.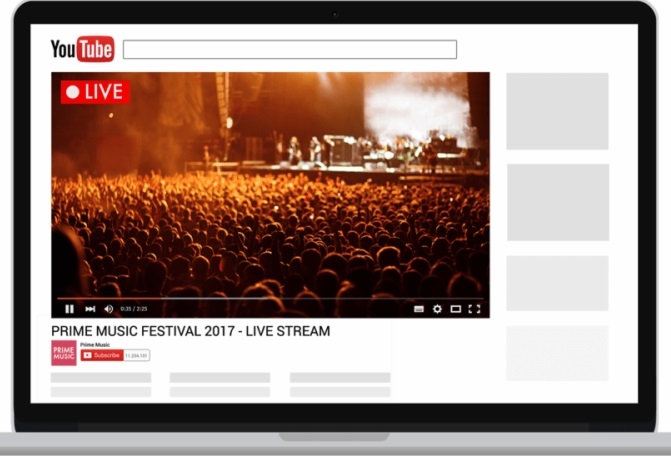 You can simply stream live on Youtube live from a webcam or an external camera connected to your laptop or computer. Youtube allows you to keep your live streams public or private as per your need. Change the privacy setting as per the requirement of the stream. You can allow a limited set of audiences to access your stream by keeping your setting private whereas public settings will allow your live stream to reach a wider audience base. Youtube live streaming solutions allow you to keep a back up of streams. It even allows the live stream to stay for 24 hours timeline after the event ends which allows potential customers to catch the missed live stream. 
If we compare youtube live streaming with other live video streaming platforms it has several advantages. Youtube live video contents have a major benefit in search results as it has excellent SEO. Youtube live stream events last for a longer duration when compared to any other online live video streaming platform and are free of cost. If we look towards the downside of youtube live, licensing can be an issue with it and tech support is not available for YouTube Live. To embed your live stream on the company's website, an approved AdSense account should be linked to your YouTube account.
2. Facebook Live
Facebook is the most popular social media platform that has a large number of active users around the globe. Live streaming via facebook help any brand to reach a large audience base within a single click. When a brand opts to broadcast live video on facebook whether its a product launch or a live stream of an event it attracts a large number of audiences to tune in at the time of live webcast. It has not only helped new brands to get global exposure but even helped many existing brands to boost sales leads. Facebook live is free of cost and helps brands to reach potential audiences globally.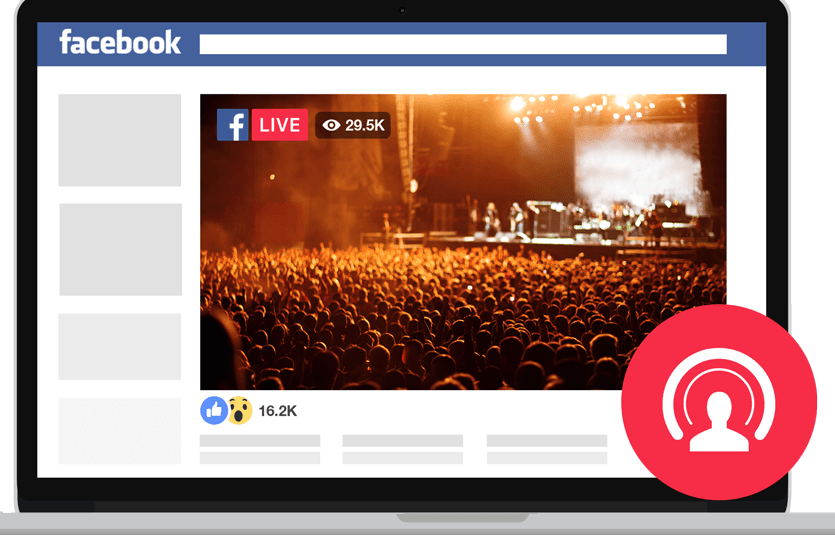 When a brand plans to broadcast live video on facebook it has various benefits attached to it. Facebook Live allows live videos to be shared on the brands' website which boosts website traffic. Facebook live streaming allows brands and customers to build an emotional bond thereby boosting real-time interactions. It allows customers to comment in real-time during the Facebook live stream. Live streaming via Facebook is just a click away. You can simply stream live by clicking the "Go live" button. Facebook live allows sharing live stream to other social media platforms, increasing the possibility of finding more potential customers. Live streaming via Facebook can last for an hour and stays for 24 hours after the webcast ends while allowing the audience to catch the live stream who missed it.
3. Dreamcast
Dreamcast is the best live video streaming service provider. It helps you to live webcast your event on various live video streaming platform. It helps in delivering better viewing experience to your audience in full HD. This helps you in driving more audience engagement while planning and prioritizing your event webcast. And it delivers hassle-free live streaming solutions while assisting clients. Dreamcast provides video-on-demand services that allow the audience to watch a previously broadcasted event which they missed due to hectic schedules as per their convenience. 24 hours of tech support is an added advantage that Dreamcast offers.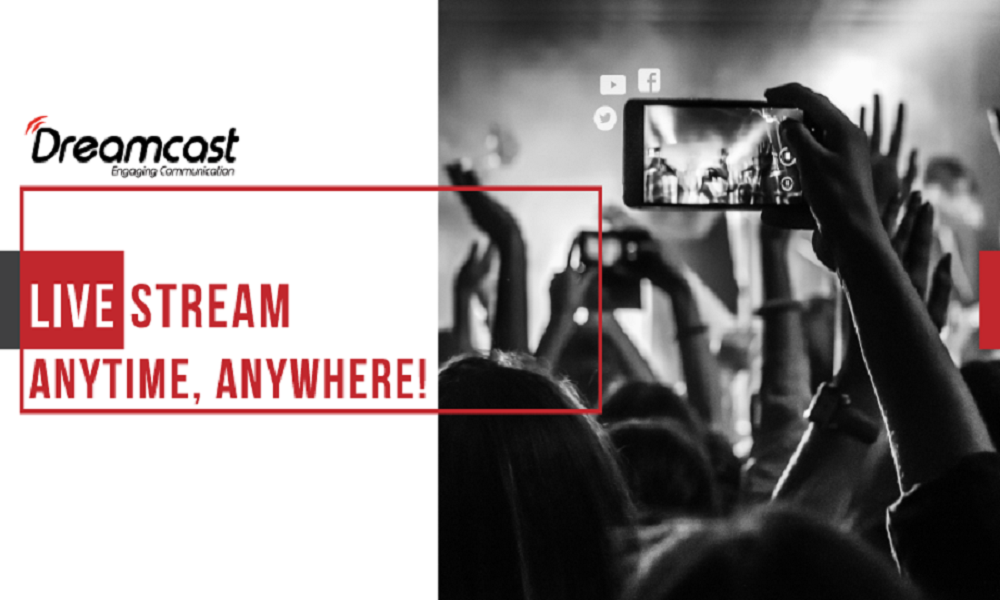 Dreamcast provides the best broadcast services on Facebook, Youtube, Instagram, Periscope, private streaming for any business, corporate events, conferences, music concerts, educational events, product launch & surgeries. Webinars and corporate meetings or town hall meetings are easy to carry out with Dreamcast. It offers a secure network, carries out your events effectively while keeping privacy, security, viewing experience as the top concerns.
Conclusion 
Selecting the right live streaming solutions from a loop of various live video streaming platforms is a tough choice. Selecting the live streaming platform depends on the demand of the brand or business. Consulting live video streaming service providers will be the best option to assist you with the right platform and carry out your live stream effectively.
Related Article: How Experiential Technology Helps in Creating The Best Photo Experiences