How to Get Tibet Travel Permit – Guidelines to Follow to Visit Tibet
So you are all set for a visit to Tibet, but worried about getting a Tibet travel permit? We can understand! This is one of the most common questions we are asked by people planning a trip to Tibet.
If you are willing to visit Tibet, you will need a reliable Tibet travel agency to help you with travel permits. If you want any help with that, visit Tibet Universal Travel, and we will help you connect to one of our experts to plan a great trip for you that also supports the local Tibetan culture and economy.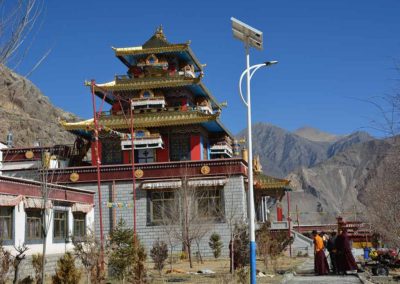 How to get Tibet Travel Permit to visit Tibet?
The permit is a prerequisite for every international traveler willing to visit Tibet. Getting a Tibet travel permit is relatively easy. Here's the guide to follow.
How to get Tibet travel permit – Things to know about.
The most flexible way to get your permit is to make sure you tell the travel agency about your plan to come to Tibet.
The first thing to consider is with whom you are going to book your tour.
It is always advisable to book your tour with the local travel agency and local tour providers as they will be well-equipped with the local knowledge. Many travel websites have always encouraged travelers to choose Tibetan travel agency in Lhasa. The travel agency has the capability of arranging permits only for international travelers.
The second thing to consider is when you would visit Tibet.
Tibet Tourism Bureau issues Tibet travel permit. So only registered local travel agency in Lhasa can apply it on your behalf. You are required to book the tour with them for them to be able to make your permit.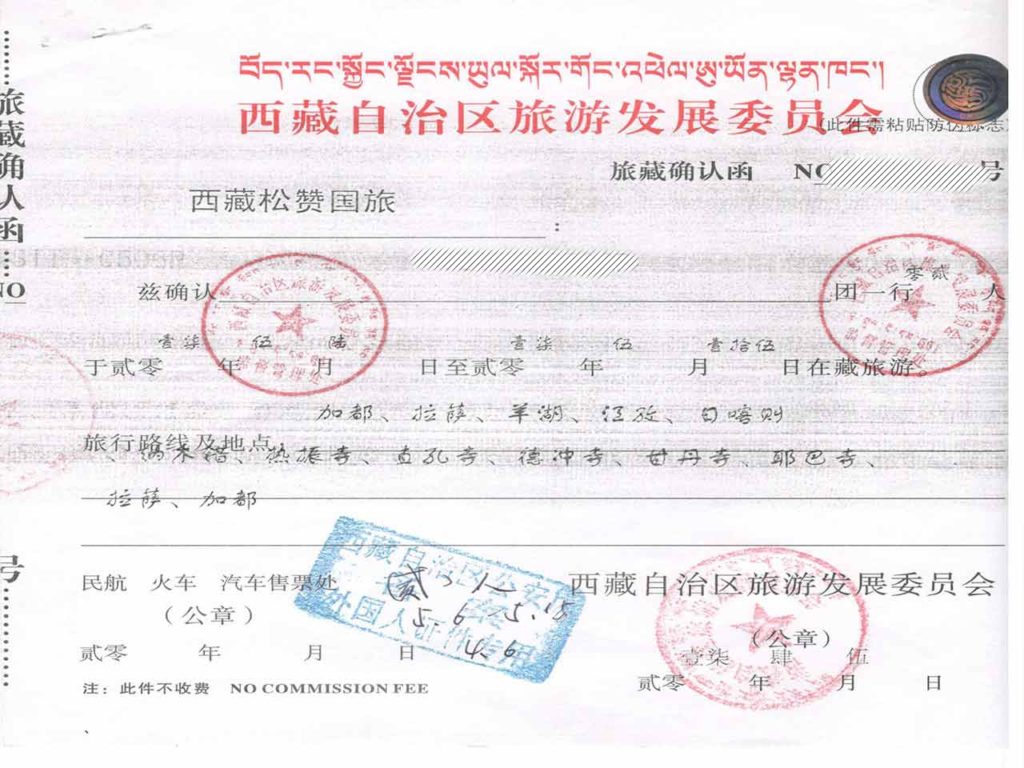 The third thing to consider is how you will enter Tibet.
Most travelers ask about sending them their Tibet travel permit before they depart for Tibet. And this is nearly impossible as Tibet Tourism Bureau completes processing the permit about a week before your arrival date. And we have it in our hand three to four days before your arrival date. So there's no way we could send it to your home country. The permit waits for you in the domestic jurisdiction of PRC. Following are the different scenarios to get the permit.
If you're planning to enter Tibet through Nepal
You must apply for a Chinese Group Visa from the Chinese embassy in Nepal. Your Tibetan travel agency will send you a visa invitation to Nepal. You will get your invitation once you arrive in Nepal. One of our agents in Kathmandu will be there to help you with the Visa. It will take three to four days to get your visa. The visa processing fees and the service may differ.
Your permit will be there in your guide's hand in Tibet at the land border or the airport if you are taking a flight from Kathmandu to Nepal.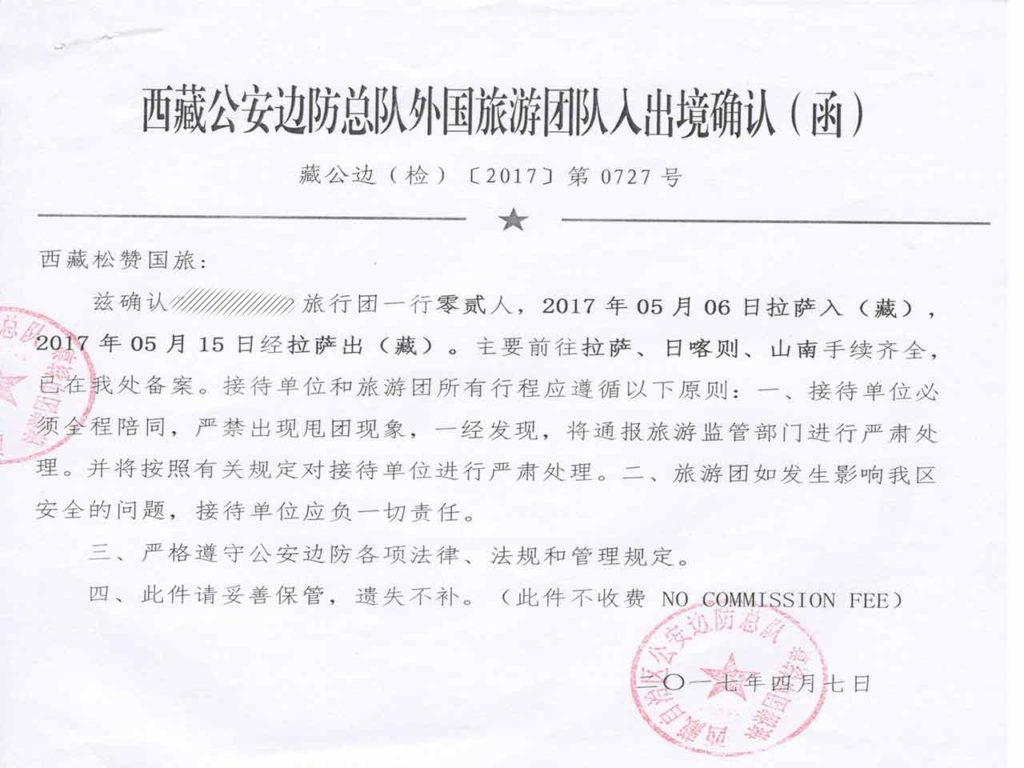 If you're entering from other parts of China
If you are visiting Tibet from other parts of China, your permits wait in the city of initial landing. There are two ways of getting your permit.
If you're staying overnight in one of those landing cities. For example, if you are landing in Beijing and staying one night more in Beijing, we will send your permit to the hotels or lodging you will be staying.
If you're only taking the transits in airports. Our agent will come to the airport to deliver you the permits during your transit time. So make sure to ask your travel agency the contact number of the person delivering your permit.
If you're traveling by train from other parts of China, you do not need to show the original travel permit so far. The photocopy will also do the work. The travel agency will send you the scan copy of your permit through e-mail. You need to make three copies of it. One color copy and one black and white copy.
Don't miss reading about the Tibet travel regulations for the particular year.
It is very important to have updated information about Tibet's tourism policy and the regional rules and regulations of government every year.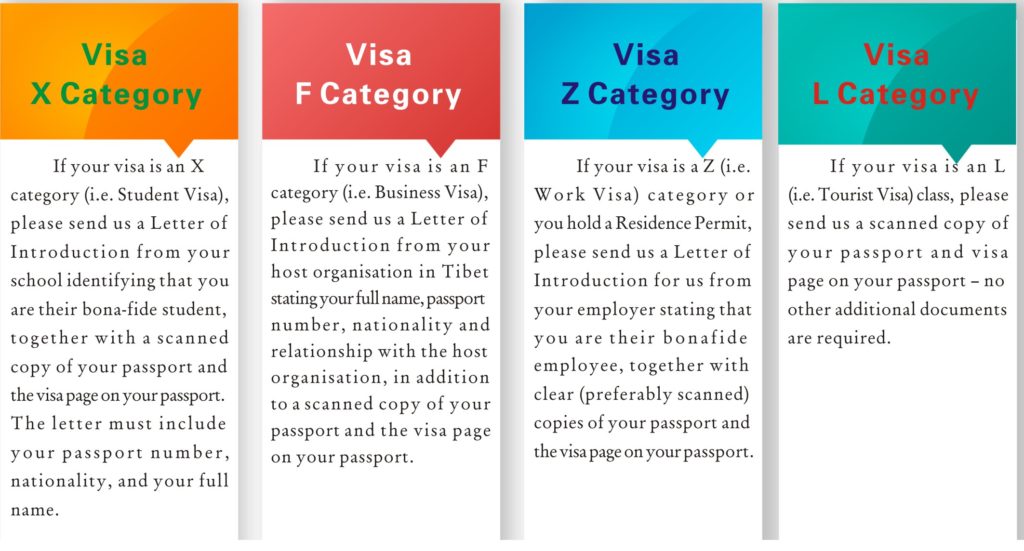 Documents Required to Apply for Your Permit
Valid passport copy of you and everyone in your group. Send a copy on which you will get the visa and which you are required to bring. Sometimes people with more than one passport get confused with this.
A copy of your visa is required if you are flying directly to the People's Republic of China. If you are coming in from Nepal, you will have to apply for the visa in the Chinese Embassy in Nepal with our visa invitation letter.
Remember that the copy of your passport and other documents should be extremely clear. Your name and photo should be clearly visible. This will make it easier for you to take a picture from your Smartphone and send it.
CONCLUSION
I hope the post has made you clear how to get Tibet Travel Permit and visit Tibet. It is very easy for a traveler to obtain a travel permit for Tibet. If you have still further questions taking the permit, we will be more than happy to help you with the right information. You can write to us at losal@tibetuniversaltravel.com or give us a call at +86 891 6513132.