The Best Plate Loaded Gym Equipment | Gymwarehouse
In the gym, you will find many options available to work out with –cables, free weights, pin-loaded, plate loaded machines and more for strength training – plus a wide variety of cardiovascular equipment. It can sometimes be hard to know which equipment is best for you and your fitness goals.
A complete strengthening solution, plate loaded gym equipment from Gymwarehouse will take your fitness levels to another level. The natural, free-flowing movement of these machines will enable you to get desired results consistently. So create your fitness regime and set a benchmark by working out regularly on plate loaded gym equipment. With the right dedication and passion, you will achieve the desired results soon! The equipment is made from high-quality materials and designed to last long.
Plate Loaded Hack Squat

The plate loaded hack squat is one of the most popular machines for leg exercises and a variety of lower body muscle groups. It features an adjustable foot plate angle so that users can choose the position which best suits their exercise. Thick shoulder pads make using under heavy loads comfortably. It has a start position handle so that a user can start the exercise in a semi raised position.   The handle is conveniently loaded next to the carriage. Hand grips are provided to keep a hold while exercising. Also, spigot Olympic storage spigots/yokes are offered free of charge. The machine is kept in stock for immediate delivery with the colour of your choice. You can visit our showroom to view them. The 'Strike' range is perfect for the exercisers requiring an ideal balance between free weights and resistance machines. The heavy-duty machines are all plate loading and function via pivots, bearings, and fulcrums. This results in a range of machines with no cables and requiring low maintenance.
Plate Loaded Chest Press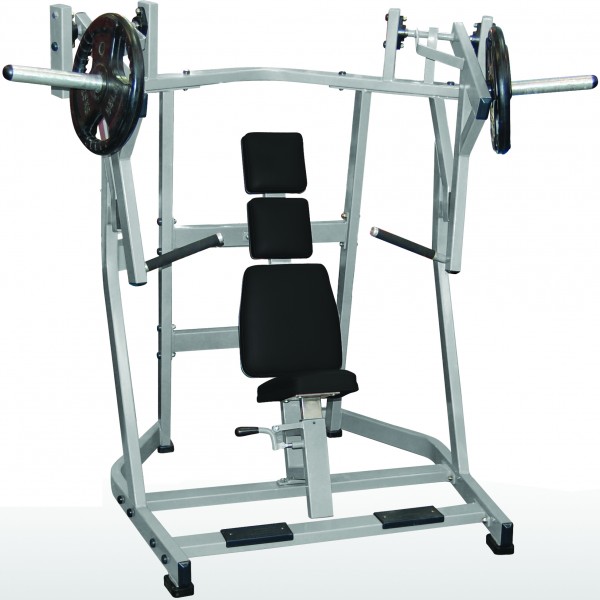 This plate loading gym equipment targets the pectoral and tricep muscles. Users can operate this gym equipment from a seated position for maximum convenience. For those willing to exercise either the upper or lower pectorals, we also have the Incline and Decline Plate Loaded Chest Press available in our UK warehouse. The plate loading range on chest machines does not have a solid bar in the front, which not only makes entering easier but also safer. With no bar in front, workouts can be done with less demand for a spotter. The construction of the equipment is from 80mm x 40mm x 3mm box section with 2″ spigots for Olympic plate loading. Available with black seats on silver or grey framework, we can custom-other colours or packages of your choice.
Plate Loaded Decline Chest Press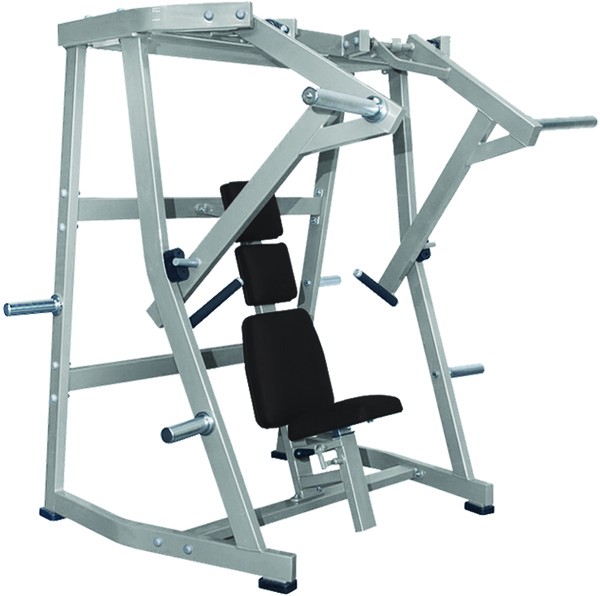 This plate loaded is one of the most popular choices with gym members. The plate loading ISO-Lateral Decline Chest Press allows the exerciser to target the lower pectorals over the upper pectorals. It enables the user to exercise pectoral and triceps with an emphasis on the lower pectorals. Exercises can operate from a seated position for maximum convenience. We have the Chest Machine in stock in our warehouse, along with varieties of Olympic Bench Press. The machine has the advantage of a safer exercise and the opportunity to go heavy with less reliance on a spotter. Available in black seats on silver or grey framework, other colour combinations can also be customised. For those who are used to training with Lifefitness Hammer Strength, this is the range to pick. Other heavy-duty machines in the range are ISO designed offering independent limb exercise.
At Gymwarehouse, we have a vast array of plate loaded gym equipment that is ideal for bodybuilding gyms. Just load your plates onto one of our machines and you are good to go. Our ISO Lateral plate loading gym equipment is the most popular one and a must in modern strength conditioning and development.
We have all the machines in stock in our Gymwarehouse UK storage with immediate dispatch. You can call or email us for more details.