A Guide On Things To Consider While Buying Football Goalpost
A goalpost has vital importance in the game of football, and after all, you can't score a goal without this fixed on the playground. Goalposts come in a varied variety of shapes and sizes fit for every athlete.
Whether you are a well-grown person, or a kid, or a professional player in training for a big tournament, there is a perfect goalpost exists for you.
There are a bunch of qualities and characteristics that need to be considered while buying a goalpost. This article is a rundown of what to look for while purchasing a goalpost.
Depth of a Goalpost
Your football goal's depth can significantly affect the performance of the whole arrangement. The three main designs are no depth, depth, and box frame.
No Depth
No Depth football goals are more straightforward than the other two in design. If you are looking for portable and pop-up goalposts, then no depth can be the right choice for you. They are triangular-shaped football goals. The netting is fixed to the crossbar in the front and falls at a 45° angle to the ground bar in the rear.
Depth
Depth football goals are more complicated in design with two bars projecting back from the crossbar in the front and two descending sidebars at a 45° angle towards the field. They are trapezoidal-shaped soccer goals. Unlike no depth goalpost, this goalpost provides more room inside the net. However, they can't be easily moved from one field to another.
Box Frame
Box Frame football goals are huge rectangular structures that provide immense space inside the net. These goalposts are made from a rich-quality metal and can be used in professional tournaments and high-level football clubs.
Type Of Net
Another significant characteristic to be considered while buying a goalpost is the netting. Without a net, a goalpost is nothing but a metal frame.
The three important materials to make nets are polyethylene (PE), high tenacity polypropylene (HTPP), and nylon. Nylon and PE are commonly used materials and are available in various sizes and knot designs.
Apart from the material, pay extra attention to the kind of net-making style used for your football goal. The strength of the net depends on it. The three methods usually implemented in net-making are:
Twisted Netting: This type provides exceptional strength, flexibility & durability, and is the most common style.
Braided Netting: This type is the most durable netting available. It is usually used in schools, colleges or professional settings.
Knotless Netting: Knotless nat-making style is a solid, one-piece style that offers ample strength.
While purchasing or replacing a net, be sure to get additional netting accessories, such as clamps, sleeves and Bungie wires. These items are essential while attaching a net to the goalpost frame.
Choosing The Right Size
The Goalposts are available in many sizes, and to choose the right one is easy. The type of game being played and age are the factors to consider while buying. Whether goalpost is for your kids to play in a backyard or for some professional league, here is a quick heads-up for you.
| | |
| --- | --- |
| Age Group | Goalpost Size |
| Five & under | 4-4.5' by 6-9' |
| Six – Seven | 6.5' by 6-9' |
| Eight – Eleven | 6.5'-7.5' by 18-21' |
| Twelve & older | 8.5' by 24' |
If you are still not sure which goalpost is suitable for your need, then don't hesitate to consult your coach or football trainer.
Material Of The Frame
While purchasing your goalpost, it is essential to sort out and specify the material according to your preference. Commonly, football goals are made up of light-weight plastic or metal.
Plastic Goalposts
These are the most cost-effective football goals composed of plastic material. Since plastic is light in weight, these goalposts can be easily moved from one place to another without a hassle. Choosing a plastic goal for children's games or leisure play can be a great choice.
Metal Goalposts
These football goals are used in infamous soccer clubs, football leagues, etc. because of their enhanced stability. Mostly, manufacturers use aluminum to make these goals more durable. Many fixed as well as portable metal goalposts are available in the market. You can choose the right one according to your need.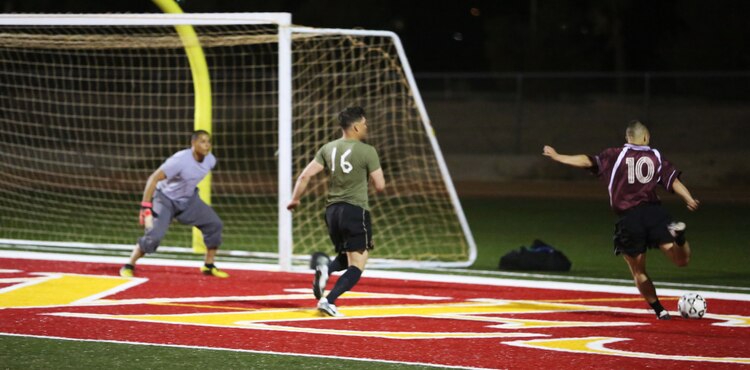 Goalpost Safety
Safety of one's well-being is utmost important. You goalpost doesn't have to be too heavy to carry out. Many lightweight goals (less than 45 kgs), movable goalposts are available to avoid any fatal accident or injury while placing it in the field.
Moreover, there are minimum quality standards set for the goalpost manufacturing. If any goalpost doesn't meet those standards, you shouldn't buy it.
Wrapping Up
It is imperative to buy a quality football goal post because it can offer a significant upgrade to your playing environment. The guide mentioned above will help you find a suitable goalpost for you and your needs.